Who are we?
The N°1 chain of aparthotels in France, Appart'City offers two ranges of accommodation: choose between 2-star and 4-star accommodation, whether you're travelling on business or on holiday, for one night, one week or several months.
Great value aparthotels under the Appart'City brand
Luxury aparthotels under the Appart'City Comfort brand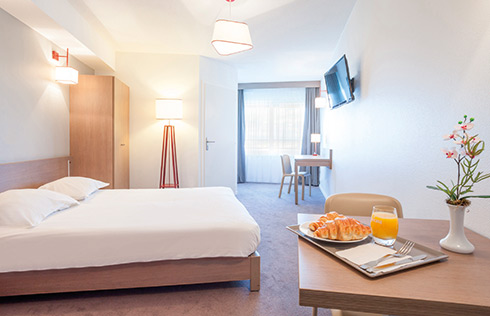 Our concept
STOP OFF AT APPART'CITY FOR A NIGHT, A WEEK OR LONGER, AND LIVE LIFE AT YOUR OWN PACE
Located in the city centres and business districts of France, close to public transport connections and shops, our aparthotels are the perfect solution for anyone travelling for business or leisure.
Ranging from studios to two-bedroom apartments, our accommodation offers quality facilities including bedrooms, separate bathrooms, fitted and equipped kitchenettes, and study areas with free WiFi. Naturally, we also offer identical services to traditional hotels*, including a reception open 24/7, breakfast, cleaning, a restaurant, parking facilities, laundry equipment and a well-being area featuring a sauna, a hammam and a gym.
Appart'City offers the comfort and tranquility of a home from home, with added services.
Apart'City. It's Easy.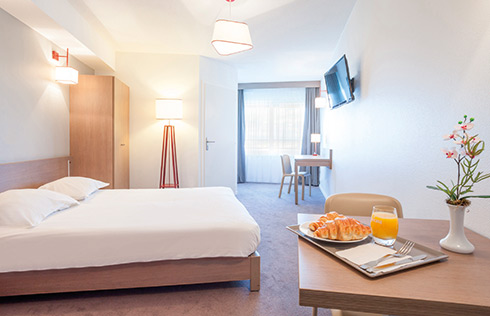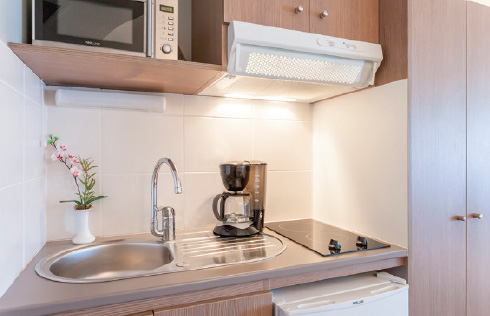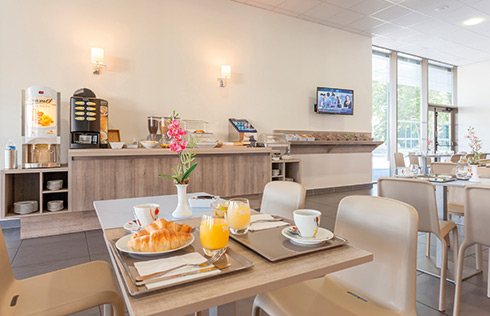 Our packages
Appart'hotel applies discounted rates for extended stays. The longer you stay, the less you pay.
From 1 to 4 nights
Lodging formulas only,
departure cleaning included.
In 4-star class, daily cleaning included.
From 5 to 27 nights
Discounted rates as of the 5th night, including weekly cleaning.
Over 28 nights
Long-stay rates on request with a weekly cleaning*.
*Outside the kitchen area and student rates.
Our services
Take advantage of inclusive services (such as WIFI) and choose fron a variety of optional extras to suit your requirements and your budget.
Available depending on the branch:
Our breakfasts
Because it's the most important meal of the day and should be a truly enjoyable experience, we've put together a tasty, balanced breakfast at an affordable price
*Available as a self-service buffet.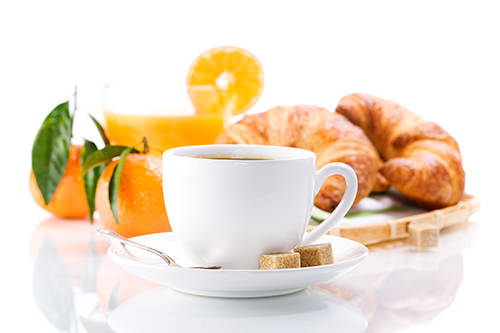 Our residences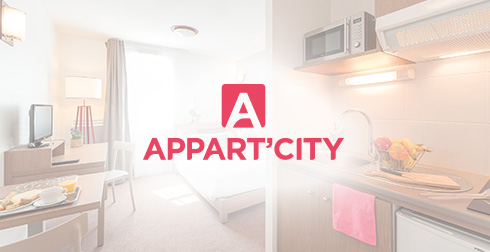 Great value aparthotels!
Choosing the Appart'City range means opting for a comfortable, functional and spacious apartment with free internet at an unbeatable price.
In either a studio or one-bedroom apartment, enjoy the benefits of a furnished apartment with a fully-equipped kitchen. Nothing is forced on you here at Appart'City; you are free to design your own stay. Feel like treating yourself? Add the services that fit your budget: WiFi, breakfast, cleaning, parking...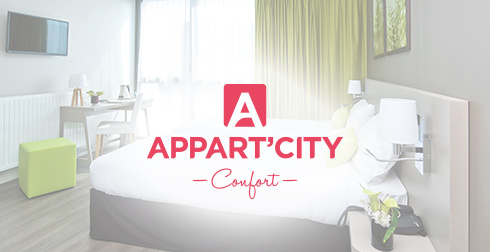 Luxury aparthotels!
Designer, trendy and cosy: our Appart'City Comfort aparthotels have got character!
Our staff will be on-hand to look after you 24/7. Enjoy a spacious, functional, handsome apartment where every detail has been designed for your comfort. Live life at your own pace, and make the most of optional services and equipment including a gym, hammam, sauna, and more.