Aix-en-ProvenceWhen do you want to go?
2 aparthotels in Aix-en-Provence

where you feel at home
More freedom for you

to Aix-en-Provence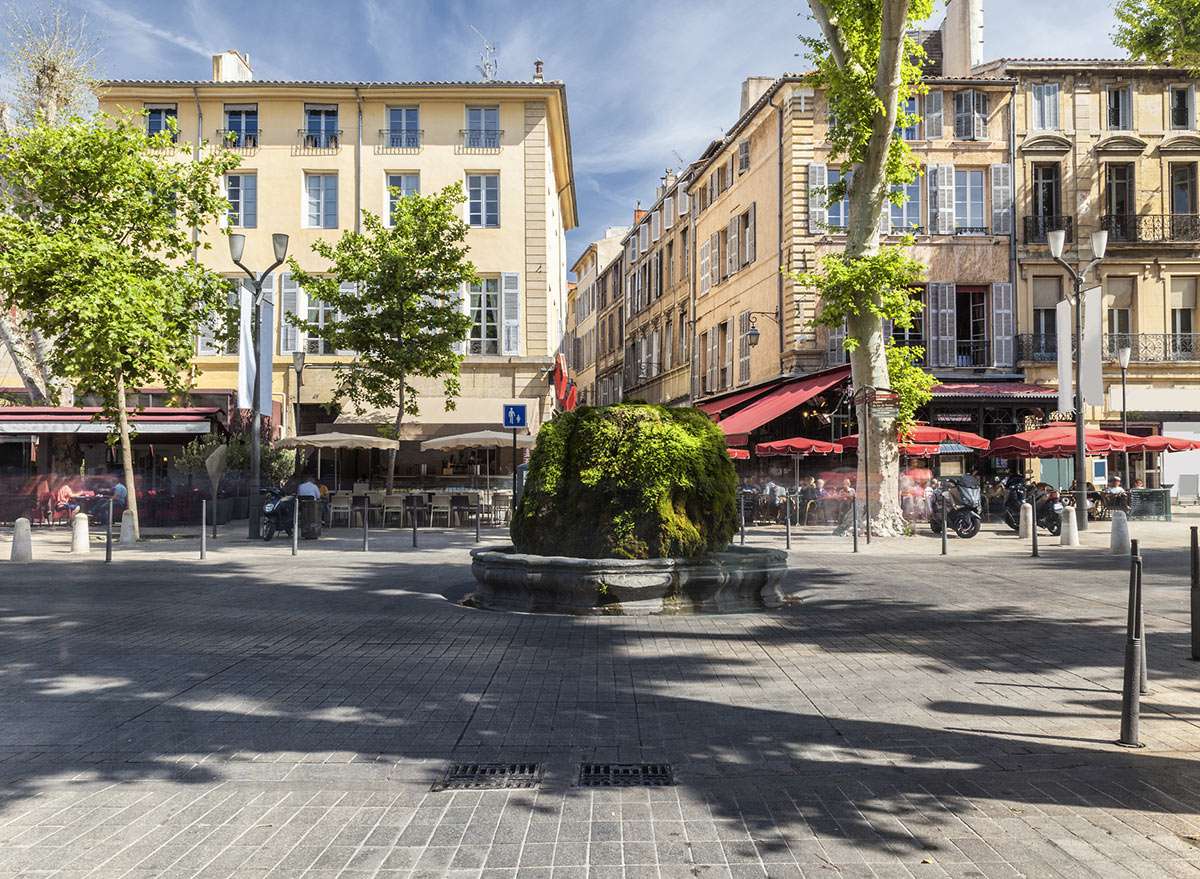 Take in the sound of the sea and the feeling of the sun on your skin on a pleasant break in the city of Aix-en-Provence. This region, home to and source of inspiration for Cézanne, invites you to explore its colourful, magical scenery. Among our aparthotels in Provence-Alpes-Côte d'Azur, you will find comfortable options in the city of Aix-en-Provence! Our aparthotel offer a range of services, so that you do not have to think about housekeeping or laundry and can enjoy a delicious breakfast to set you up for your day exploring the city.
Aix-en-Provence is a worthy representative of the culture of the South of France. It offers wild hills, hinterlands painted by lavender fields and olive groves, and a city rich in cultural and leisure activities. Take a moment to relax, wandering through the city centre's charming narrow streets. Try some local olives, lavender honey or even some grilled lamb to get to know the local culture. You can even visit a range of museums or old, traditional houses, which will ensure you leave with some unforgettable memories of your holiday.
Leisure activities in Aix-en-Provence
For a relaxing break during your stay, go for a round of golf on the city's course or try climbing at Montagne Sainte-Victoire, which was held very dear by Cézanne. This location is perfect for trying climbing and taking in incredible views over the region. You can also explore the region on a bike, on one of many routes available. You could even rent a Segway to weave through the streets of central Aix-en-Provence. Finally, if you want to try some local products and discover new flavours, there are various markets open every day of the week. Try delicious cheeses, the sweetest fruit and flavoursome local meat. You can also sample the city's nightlife in one of its 10 nightclubs or try your luck at the casino. There's something for all tastes in Aix-en-Provence!
Cultural activities in Aix-en-Provence
You will have no trouble finding exciting things to do in Aix-en-Provence! Begin your trip by wandering through the streets of the historic centre. This authentic area offers the chance to buy some souvenirs in the local boutiques and ask the shopkeepers for advice on the best products. The centre is sprinkled with parks, gardens and fountains, which invite you to take a break while exploring Aix-en-Provence. You can also stop off on the Cours Mirabeau thoroughfare, a must-visit area of the city where you can sip on a coffee or make the most of happy hour. Visit the Musée Granet, not far from the Palais de Malte. Stop and admire masterpieces by Rembrandt, Cézanne, Giacometti and even Ingres. Food lovers must pay a visit to the artisan factory that makes the famous calissons. These sweet treats are a subtle combination of almonds and candied melon, flavoured with a touch of orange blossom.
Discover our
aparthotels in
nearby cities